The concept of wellness moves the definition of health and well-being away from a mindset based in the management of disease and into the areas of prevention and proactive strategies.
Active aging embodies the philosophy that individuals can live as fully as possible within the seven dimensions of wellness. The wellness dimensions overlap and coordinate to provide rich environments for living. Wellness becomes a framework that is valuable for serving the wants and needs of a person engaged in life.
The 7 dimensions of wellness are believed to be:
Emotional
Intellectual, cognitive
Physical
Professional, vocational
Social
Spiritual
Environmental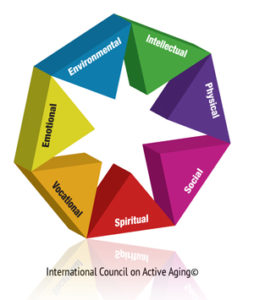 The International Council For Active Aging (ICAA) discusses the wellness dimensions in the following article. To read more, click here.
While the aging process is normal and affects us all in different ways, there are some things that we can all do to ensure that we "put time on our side". Click here to read more.