Brigit Grant From Jewish News, wrote on July 12, 2020, 6:32 pm:
"Now that's rock 'n' roll! Care home residents recreate iconic album covers
Sydmar Lodge residents in Edgware pay homage to classic albums by artists including Madonna, Adele, David Bowie and Bruce Springsteen.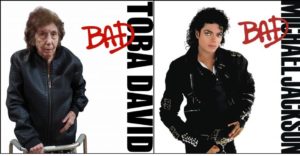 When activities co-ordinator Robert Speker, decided to recreate album covers with the residents at Sydmar Lodge in Mill Hill, he had no idea his photographs would go viral in hours and create a media frenzy.
Robert, 41, who has worked at the care home for five years was at work on Sunday when TV and radio stations started calling to ask him about the project which features the home's Jewish residents replicating the cover poses of artists such as Madonna, Adele, Bruce Springsteen and Rag 'n Bone man.
Robert, who previously worked at Kisharon was featured in Jewish News when he took resident Shelia Solomons to see Rag 'n Bone Man and Shelia, who appears in the album collection as Rag 'n Bone Man complete with tattoos painted on by Robert and as bassist Paul Simonon in The Clash's album London Calling.
Born and raised in Newcastle, Robert who has been working through lock-down, almost missed the birth of his third daughter, Olivia on June 25 when his wife Aya went into labour while he was at the care home taking the final shot of Hilda for the Blink 182 cover. "My wife is very, very understanding," says Robert who is always coming up with new ways to entertain the residents.
"I have taken them to the Ritz for tea and I am thinking of ways to get them an outing to a casino. A few weeks ago I hosted a 100th birthday for a resident with her family on Zoom. It was wonderful but sad because she should have had the party she deserved." With plans to come up with more ways to make the residents happy, Robert set up a go fund me page.
"I did the project to make them happy and I think the models' families have enjoyed it, with even grandchildren posting about their grandparents, but the risks of Covid means they could be in lock-down for a long time and I want to make it a good time."
Since posting the covers on Facebook, Robert has been contacted by news agencies across the globe and will appear on BBC News in the morning, CNN and Channel 5 tomorrow. "Then it's back to Sydmar Lodge to think of ways to keep the residents uplifted."
To view the album collection, click here.
Shire is proud to provide a range of quality,  independent, personalised services to the retirement market – We look forward to being of service to you. To contact us, click here.